Hi, I'm Kathrin and I am a German expat living in the crazy world of the Silicon Valley, California. My husband, our two girls and I moved here in May 2008. Living in the US was supposed to be an adventure. Now a few years have become nearly a decade in the Golden State.

Expat life
I still don't call myself an immigrant, because I never came to stay. Our life in California definitely has been a big adventure. This place has become our (second) home, we love it here and we have made lots of wonderful friends. Of which some have already moved back to their home countries.
Living the expat life has always been a challenge for me as well. Socially, emotionally and career-wise. We went through three different visas during this whole time and only this January we finally received the green card. In the last nine years I was a mother, a wife, a friend, a networking queen, an event manager, a teaching aide, a German teacher, a P.E. teacher, a Marketing assistant, the founder and owner of an after school care, a runner, a triathlete, a blogger and a meet up leader. You can call me "Alltagsheldin", which means everyday heroine 😉 .

2 hearts
As much as I love it here in California, the sun, the people and the outdoors, I am still missing my big, dirty, loud, not so sunny, but honest and big-hearted Cologne. And I often feel that I do not belong here. Hence  there are two hearts beating in my chest. One is German and beats for Cologne and the other one will always be Californian. That's why I called this blog Cöllefornia (Kölle is the pet name for Cologne).
It has become very important for me. I discovered that I love to write about the shit I do and feel in life and furthermore this blog has become the place where I can share my adventures and experiences with kindred spirits all over the world.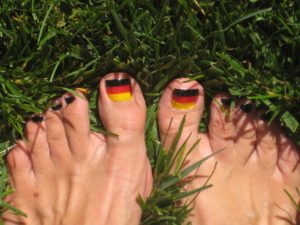 A German expat living on the greener grass.
Expat adventures and advice.